We are Hiring!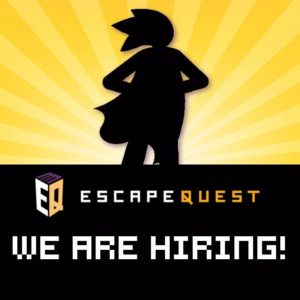 We are seeking friendly, enthusiastic people with a passion for gaming at St. John's premier escape room facility. A full-time position is available. Candidates must thrive in a fast paced environment, enjoy engaging large groups and demonstrate quick problem-solving skills. This position is funded through a Canada Summer Jobs grant and applicants must be under 30 and be a permanent resident of Canada in order to qualify. If this is totally you, then please see below for all the details, and we look forward to hearing from you!
__________________________________________________
Wage: Variable based on Experience
The position is Full-time.
Hosting groups as they enter our escape room facility, narrating room scenarios, explaining game rules, and highlighting safety features
Assisting with game planning and development.
Assessing players' progress through the game and providing meaningful, useful hints when requested
Providing friendly and motivating customer service
Pre-setting and sanitizing rooms after a group has completed their game, ensuring a fun and safe experience for the next group
Maintaining the facility on a daily basis
Booking customers over the phone and online
Selling boardgames
Working off site during Pop-Up Escape Room experiences and conventions
Be ready, willing and able to work evening and weekend shifts
Assisting in corporate and larger group sales
Excellent communication skills, both verbal and written is an asset
Previous experience in customer service is an asset
Creativity and experience in game development/hosting is an asset
Strong attention to detail and organization skills is an asset
Previous retail experience is an asset.
Familiarity with Google Calendar
Familiarity with cash register operations
Knowledge of the Vend Point of Sales system
A valid driver's license or reliable transportation
Comfortable using an iPad
Experience navigating social media, including Facebook, Facebook ads, Twitter, and Instagram
Interest in room and puzzle design
Interest in graphic/prop/set/tech development and design
Please send your résumé and cover letter to info@escapequest.ca, ATTN: Mark Denine. Subject heading on the email should read Full Time Quest Guide Application. Only emailed or submitted in store résumés and cover letters will be considered. Application deadline is 12pm, Monday, September 13, 2021. Only applicants selected for an interview will be contacted.